Notes by: Sarah Cox and Cormac Dixon
John Paul II Award:
Congratulations to the students who received their Bronze John Paul II awards from Bishop Francis Duffy at a ceremony in St. Mels Cathedral recently; Feidhlim Maher, Ciara Healy, Zoe Gallagher, Róisín Sheahan, Orla Keane, Maryann Lynch, Aisling McCormack, Ciara Nally, Harry Pendred, Matthew Gunning, Conall McKiernan, Jason Moorhead, Brian Kelly, Clodagh Kiely, Catherine Reilly, Karen Victory, Kevin Lynch, Cian Belton, Caoimhe Lohan, Rachael Lyons, Clodagh Kenny, Eve Corrigan, Claire Shaw, Daniel Lennon, Eoin Mulvihill, Bronagh Gorham and Orla Kenny. Congratulations also to Áine Bannon who received the Silver John Paul II award on the same day.
Sport:
Heartiest congratulations to our senior girls, Emily Farrell and Rachael Lyons who participated in the Soroptimist Public Speaking competition this week. The event was held in Athlone Community College on Tuesday night, with several schools from the locality participating. The competition was steep with an excellent display of knowledge, skill and ablilty by all the girls' involved. Rachael Lyons 5th year will go forward to represent the region in the Leinster final in January. We wish her every success in the next round. Thanks also to their mentor Ms. Ruth Gaffney
The Under 19 Boys' basketball team, coached by Mr. Dempsey and Ms. Flannery, won their match on Friday 17th November against Corolan College. The u 19 and u 16 boys' basketball teams are now through to the regional playoffs.
Commiserations to the senior Boys footballers who were beaten by Ballymahon Vocational School, in the Longford/Westmeath Final at Pearse Park last week. Thanks to their coaches Mr. McCormack and Mr. O Gara.
Congratulations to Sean Kenny, James Murphy, Gerard Brennan and Shane Prior who won 'The Battle of the Wits' table quiz held in Longford Library on Tuesday 21st November. They now go on to represent Longford in the Regional Finals in Athlone on the 6th December.
NARNIA students enjoyed a day out at Laser Tag in Athlone with Ms. Ryan and Helena Brady on Tuesday 21st November.
Well done to Mr. McCormack and Ms. Carr and all the first year students who held a Gymnastics display in the gym on Monday last.
The first year boys are enjoying a lunchtime Pella competition organised by Mr. Larkin and some transition year students.
Transition Year
Thanks to Oisin Brogan, Eva Harkin, Lucy-Anne Myhill, Ciaran Hanly, Eoghan Bannon, Sophie Hogan, Megan Finnan, Katie Gouldsbury and Gordon Farrell, who went to the Day-care centre this week;
TY2 and TY3 students enjoyed a Holy Spirit Day as a part of their Alpha course in St. Mel's Diocesan Centre on Wednesday 22nd November. Thanks Annette Evans and her team of volunteers Mona, Catherine, Mary, Jim and Gerry for running the course and to Ms. Bohan and Mr Staunton for accompanying the students.
Teresa Dooner from Killashee gave some TY students a demonstration on her Bread Making recipe that reached 2nd place in the ICA All-Ireland Bread making competition in recent years. Thank you Teresa for your time and expertise, your Bread was gorgeous.
Alan Devine completed his workshop with Transition year students on oral presentations.
Art Exhibition
The 'Imaginations Run Wild' art exhibition was held on Thursday 23rd November in the Study Hall of the school. It was opened by Longford artist Phil Atkinson. Thanks to TY students Patrick Conlon, Mark Mealia, Sean Mulleady and Cathal Higgins helped organise Ms. Bruton organise the exhibition.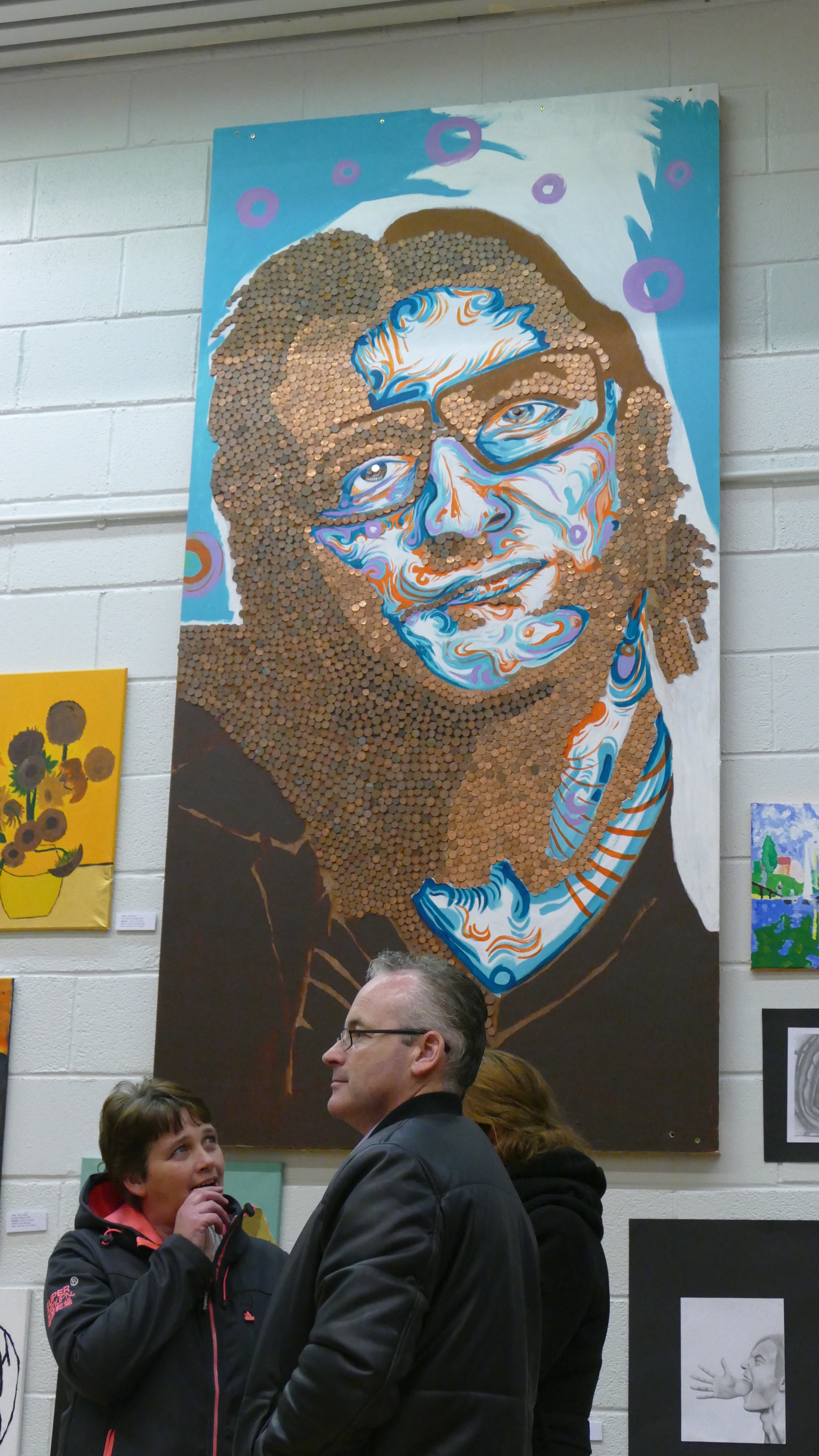 Agricultural Science
Thanks to Mr. Munds and Mr. Walsh who took 5th and 6th year Ag. Science students to a farm talk based on the Irish beef industry in the Ballymahon Mart on Wednesday 22nd November. Guest speakers included Angus Woods, chairman of the Irish beef industry and actor and playwright Seamus O Rourke.
Monthly Weather Report from our school weather reporting team: Francesca Mc Greal and Matthew Jordan October 2017
Temperatures were quite mild with an average of 13 degrees Celsius. Soil temperature fell gradually from a high of 14 degrees Celsius at the beginning of October, to 9 degrees at the end of the month. Wind direction was mostly from a southerly direction which kept our temperatures mild and our precipitation as rainfall. Grass growth was measured for October at 5cm, which is good and undoubtedly related to our mild conditions.
Open Night and Enrolment
Our Open Night is taking place on November 30th at 7pm. 6th class pupils and their parents/guardians are invited to attend. Closing date for enrolment is Wednesday December 20th, 4pm.
Thought for the week:
If you stumble make it part of the dance.